Drowning Mom Loses Baby in Hurricane ChaosThen She Sees a Picture of Her on Facebook
Our kids are the extension of ourselves that we didn't even know we needed until the moment they were born—so it becomes basic parental instinct to put the lives of our babies above our own.
Nothing has brought that truth to light quite like the recent Hurricane Harvey disaster, as one mom even sacrificed her own life to ensure her daughter was not engulfed by the raging flood waters.
Dajauh Zhane Henix's dedication to her own daughter's safety was no less heroic.
And this time, the story has a happy ending, through the aid of the social media giant that is Facebook and the all-powerful miracle worker that is our God.
Earlier this week, Dajauh found herself stranded in neck-deep waters with her little girl in Harris County, Texas, as they awaited a rescue boat to retrieve them. When help finally came, the concerned mother wanted to make sure her baby got out of harm's way first, so she handed her to a police officer who immediately drove off. Though pained to be separated from her daughter, Dajauh was just happy that she was in safe hands.
Thankfully, another officer from the Harris County Police Department was able to come to her rescue shortly after.
But the moment Dajauh reached the boat, her heart plummeted into her stomach. She realized that her boat was headed in one direction, and her little girl was heading the OPPOSITE way.
Her initial feeling of comfort quickly turned into panick.
With no clue how to track her baby down amidst the hurricane chaos, she decided to go out on a limb and post a plea on social media.
What she DIDN'T know is that she wasn't the only one on the hunt!
The man who rescued her, Constable Christopher E. Diaz, also took to Facebook in an effort to reunite the pair.
"We are trying to find the mother to this baby," he wrote. "The mother was last seen wearing a purple shirt on South Lake Houston parkway."
To Dajauh's surprise, the social media cries for help paid off!
Hundreds of kind strangers collaborated to get her baby girl safely back in her arms.
After they were reunited, Diaz posted once more to commend the mother's selfless actions on behalf of her daughter.
"This mother did what any great parent would do," he wrote. "She realized how fast and deep the water current was… She put her baby's life ahead of her own and asked for us to take the baby to higher ground. The baby was in great hands, and we made sure she was reunited with her Mother."
Facebook users echoed the praise of the brave mama and the protecting hand of God over her little one.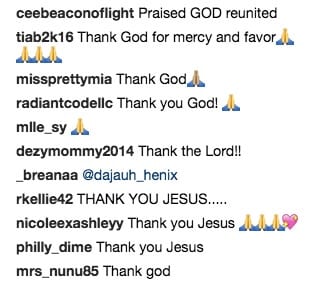 And no one could deny the role that the Internet and modern technology played in orchestrating the reunion.
"Wow…the power of the internet brought this family back together in about an hrs amount of time," wrote Jamie Batt. "Imagine 50 years ago, it would have been a lot harder to locate the mother. Technology is amazing."

In a day where Facebook is often used to start 'comment wars' and cyberbully, it's so cool to see it instead bring a family back together.
Social media is only a vessel. We dictate its function. We can use it to tear each other down, or to bring strangers across the world together for good.
Like these fine folks, let us always choose the latter. ❤️
Read more: http://faithit.com/mom-baby-reunited-facebook-post-hurricane-harvey/