How to Sign Up for Bloomberg on WhatsApp
There's a new way to get the latest business news and analysis from Bloomberg: We're now on WhatsApp. Here's how to get started.
What to expect: We'll send one big story each day — which could range from expert analysis on the latest Kim Jong Un maneuver to a longread on the gambler who cracked the horse-racing code — with background from Bloomberg reporters on why the story matters, or how they got the scoop. We'll also send you any major, global breaking news as it happens. You'll typically receive one or two messages daily.
You can choose to get additional messages from us on topics like global market movers. When you first sign up for the WhatsApp group (see below), we'll send you a link to personalize which updates you receive. We welcome your direct replies, even though we won't be able to reply to each one. Any message you send us will be received directly by Bloomberg and can't be viewed by anyone else in the group.
How to subscribe: First, make sure you have WhatsApp on your mobile device. You can download it here on the App Store for iOS or here on Google Play for Android. Then, tap the button below to add us as a contact in WhatsApp. (If you can't view that, click here to begin.)
If you're not reading this on a smartphone, you can still follow the steps above, load WhatsApp on the web, and send a message with the word "start" to begin receiving updates.
How to unsubscribe: To opt out from receiving all Bloomberg updates on WhatsApp, send a message with the word "stop."
How your data will be used: Bloomberg will only use your phone number to send updates via WhatsApp. To view the privacy policy of WhatsBroadcast, the service provider that delivers our messages, click here.
Where else to find Bloomberg coverage: We're also on Facebook, Twitter, Instagram, and LINE.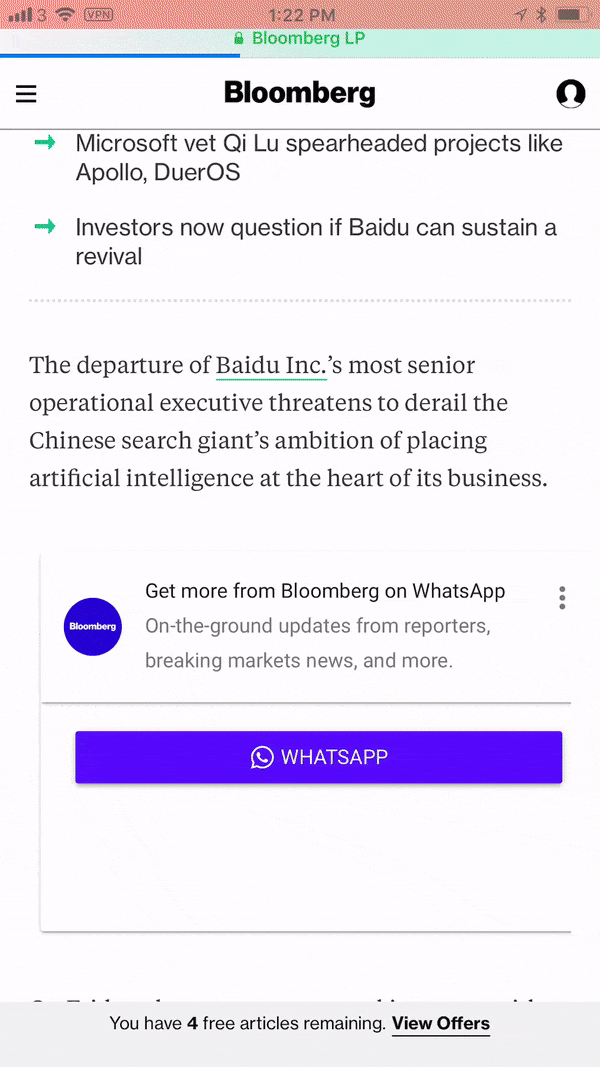 Read more: https://www.bloomberg.com/news/articles/2018-06-20/how-to-sign-up-for-bloomberg-on-whatsapp