Patients access medical records on app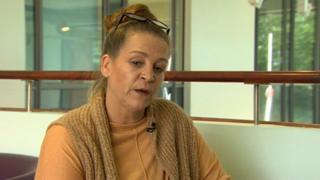 When Deborah Isidoro had a heart attack in 2016 aged just 49, it threw her into a confusing world of appointments, surgery, medication, tests and rehab.
But for the last few weeks she has been tracking her progress on an app.
Patients Know Best, being trialled in Bridgend, gives people 24/7 access to their medical records on smart phone or computer.
"It gives me more understanding of what's going on – it is empowering in a way," said Ms Isidoro.
What does the app do?
Holds information about appointments, latest test results and care plans
Potentially links up with devices like ones used to monitor blood sugar levels.
It is secure – the developers say they take cyber-security very seriously – but patients can choose if they want to share information with close family or friends.
Some test results considered sensitive – such as a biopsy or HIV test – will be delayed from showing on the system.
Allows medics to talk to patients and hold consultations by video link
Videos to help patients better understand their condition and manage care are also available.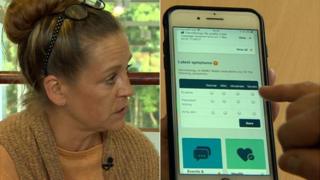 Ms Isidoro was one of the first cardiology outpatients to be offered the app – which is bilingual – when it was launched by Abertawe Bro Morgannwg health board (ABMU) at Princess of Wales Hospital last month.
After having a stent fitted, Ms Isirdoro, from Pencoed, believes the app will be "critical and vital" to help ensure her heart recovers and that she can help prevent a recurrence.
"I have blood results going back the last 18 months but I understand even more will be going up online," she said. "It's very user friendly."
ABMU first tried out the system in dermatology at Singleton and urology in Morriston in Swansea.
It is now conducting a second pilot scheme across 10 departments in Bridgend including Parkinson's disease, diabetes and chronic obstructive pulmonary disease.
Louise Ebenezer, a Parkinson's disease nurse specialist at the Princess of Wales, believes it will allow them to communicate more effectively with 500 patients and reduce workload.
"At the moment we get 30 to 40 calls a day from different patients about when they need to take their tablets, asking about clinic or their next appointment," she said.
"So with this system, patients can send a secure email and we'll have set times when we'll answer their questions and queries."
The software has already been used in 30 hospitals across England, including Great Ormond Street in London, but this is a first in Wales.
Prof Hamish Laing, the project lead at ABMU, said they were evaluating it and hoped to roll it out across outpatient departments and the health board.
"It allows us to use our time better and have a different conversation with patients when we see them, because they're better informed. But it also allows us not to be, to be honest, wasting time seeing patients who really didn't need to be seen in the first place."
Read more: http://www.bbc.co.uk/news/uk-wales-45221255