TSB and HSBC hit by computer glitch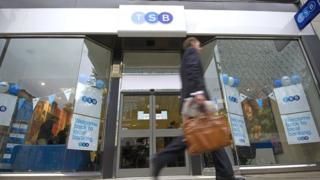 TSB and HSBC customers had trouble accessing accounts on Friday after the banks were hit by computer glitches.
TSB said users of its smartphone app and internet banking were having difficulty logging in.
HSBC said about 50% of mobile users had trouble connecting during the morning, although the bank says its problems have now been resolved.
It is the latest in a string of IT outages for the industry, including the recent high-profile meltdown at TSB.
TSB said in a tweet: "We're aware of an issue affecting some of our customers when they are using our mobile app and Internet Banking this morning. We are working hard to fix these issues and will update again as soon as we can."
A TSB spokeswoman said that customers were still able to use their cards as normal.
Although TSB customers were still using Twitter to vent their anger at continuing problems, HSBC said the problem affecting its services had been fixed.
An HSBC spokesman said: "An earlier issue where some customers were unable to log on to the HSBC mobile banking app has been resolved and users of the app should be able to log on as usual.
"We will be conducting an investigation into the cause of this issue, and we apologise for any inconvenience this may have caused."
Last week, RBS, NatWest and Ulster Bank reported problems with customers unable to access their bank accounts online. Customers were locked out for about five hours.
Earlier this year, TSB's huge IT meltdown led to weeks of pain for customers and the eventual resignation of chief executive Paul Pester.
TSB customers, many still recovering from the previous outages, posted their complaints on Twitter.
"Well done @TSB on having yet another issue with online banking. Top service," said one frustrated customer.
Said another: "So sick of the shocking online banking service currently being provided. Yet again can not access my money."
Read more: https://www.bbc.co.uk/news/business-45676458